In accordance with the provisions of the Consumer Code, you have a period of 14 days to exercise your right of revocation from the date of delivery. If this period expires on a Saturday, Sunday, or a public holiday, it is extended until the next working day. In order to exercise your right of revocation, please complete the form opposite.
Orders for fresh produce are firm and final. They are neither cancellable nor refundable.
Purchases made by e-gift card are not refundable in cash, check, or credit card, but the e-gift card can be re-credited.
Packages must be returned at your expense and
accompanied by the purchase invoice (keep your
proof of return), to the following address:
Comtesse du Barry
Route de Touget
32200 Gimont
In accordance with the Data Protection Act of January 6, 1978, you have the right to access and rectify your data. You can be informed of our offers by phone, mail or e-mail. If you do not wish, or if you want to rectify your personal data, you just have to notify us by e-mail.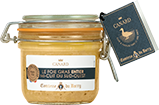 haut